Hoof Wall Separation and White Line Disease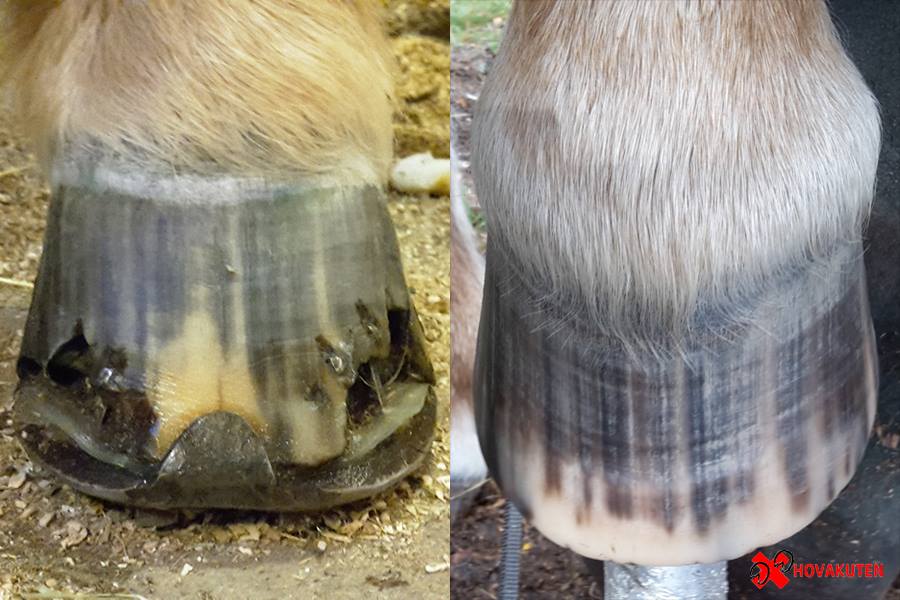 In the past, a broad spectrum of bacteria, fungi, yeasts, etc. were blamed – BUT White Line Disesase is not a disease at all. If a hoof will overgrow, the hoof wall begin to separate from the coffin bone. As the hoof wall flares away, fungi find a perfect environment in the separations and begin to feed on the hoof wall. This further weakens the hoof, and chunks will break away. Not beautiful but very effective for a horse to survive in the wild! As soon the horse will continue its long walks, back to its nomadic lifestyle, the flared, weakened wall will finish breaking away, and healthy horn can replace it.
1.5 years in progress. Hard working hooves with strong walls. The hooves were already restored after 1 year, but I had somehow forgotten to take pictures. Anyway, during treatment the horse was able to be ridden from day one!
after 1.5 years: Left front, post first trim
bärrandsröta Fäulnis hålrum hålvägg hohle Wand hohle Wände impact of horseshoes klyfta shoeing White Line Disease WLD